When I was younger, my mom got into embroidery. She had tons of skeins of thread and I'd always put them in color order or put them into shapes. She showed me a few stitches, but I was more interested in using the thread to make loads and loads of friendship bracelets.
Fast forward to my senior year in high school. My ex's mom, Laurie, taught me different ways to make necklace cords and bracelets using the embroidery thread. I made tons of them for my friends and a couple for my teachers.
In 2005, I came upon, through craftster.org, a website called Sublime Stitching. Jenny Hart has the CUTEST embroidery patterns, and her motto is very appropriate: "This ain't your grandma's embroidery!" I looked at the patterns, but was a little intimidated by them. Inspired by her cool patterns, I made my first embroidery project, using my own pattern. It was a cross-stitch project for my friend Lynn. It said "Do not fuck with me", and I even stitched little hearts on the top and bottom. I picked up cross-stitching for a while, but eventually gave it up because I couldn't find any cross-stitch patterns that were cool enough, and I can't draw well enough to draw my own.
This year, I don't know what made me visit Jenny Hart's page again, but I did, and decided to give embroidery a go. I downloaded some free patterns from a few other pages so I could practice and decide if embroidery was for me. I was afraid I'd suck at it. I made a few things, learned by trial and error that you have to separate the threads on embroidery floss (WHY don't they just make them thinner?), and I made quite a few little projects: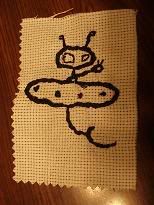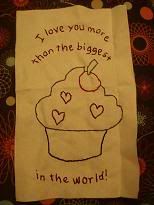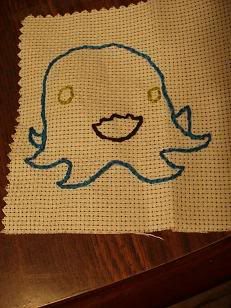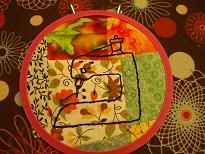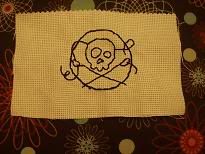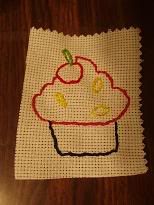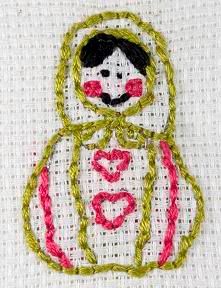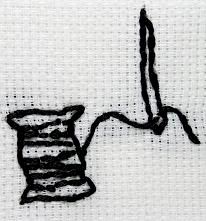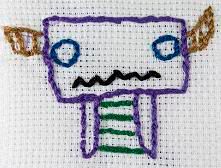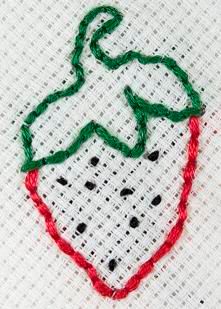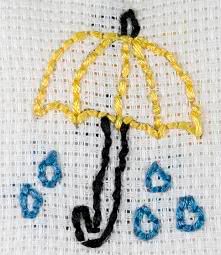 Eventually, I ordered two patterns from Sublime Stitching- "Vital Organs" and "I Luv Veggies". Here is my first one. It is going to be a house-warming gift for my sister, who is moving into her new apartment in July.
And here are some other projects I have done. There will be more posted as I make them, I just wanted to get caught up on the stuff I've not posted to this blog. There will be many, many more to come, as I've got about 4 I'm currently work on. I've also ordered 5 patterns from the Wildolive Etsy store (http://www.etsy.com/shop.php?user_id=7503), and plan to order some from the PimpStitch bloggers. I've done some really tiny ones as well, but I haven't been able to get a good photo of them yet. Maybe later...