Here is some more stuff I've done.
My friend's getting married on November 7th, so I made her this. It's from the Sublime Stitching Craft Pad. Sorry for the crooked picture, I took it crooked and I'm too lazy to fix it. I might at a later date.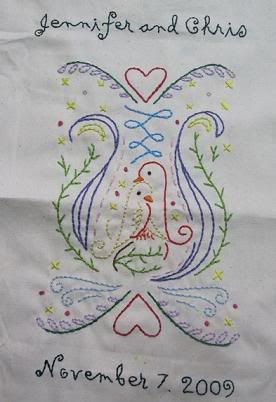 Here is something I've done from the Tara McPherson/Sublime Stitching collaboration patterns. I am pretty happy with the way it came out.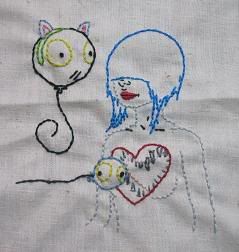 I just bought the Sublime Stitching Country Cool and Word Balloon patterns, and three skeins of glow in the dark floss from a local shop here in Austin. They said they think she's discontinuing the Word Balloon pattern. I've learned that I'd better get my grubby paws on her discontinued patterns or I'll never, ever have them. Boo! I think she discontinued the Handmade Nation one, and I'm sad that I didn't pick it up when I had the chance. :( Anyway, I have Christmas present ideas for those patterns and I can't wait to start them.
That's all for now. Thanks for reading, Kristi, since you're mostly the only one who does ;) haha! And if anyone else happened upon this, thanks to you, too :)