I have so many things I want to stitch up. I have a ton of Wild Olive and Sublime Stitching patterns I've not done yet. I have a ton of other stuff as well that I've just found or people have passed down to me as well. And I've drawn up a couple of little things myself. I never know where to start, and I always get overwhelmed, so I decided to make a list. I have friends who have moved into new apartments, birthdays, and Christmas coming up, so I made a list of people I'm doing embroidery projects for, and I started on it Thursday.
I did this one from an Urban Threads pattern. Yes, I know, they are evil, but I got this stuff before I knew they were evil and I'm not about to pitch it! I made it for my friend who's just moved into a new place. I thinks it's adorable. We all love Cthulhu.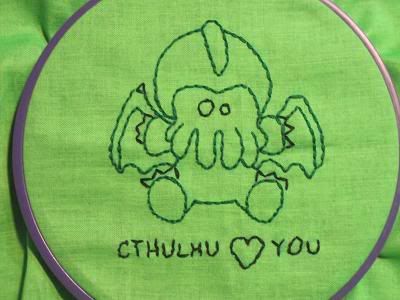 This is another for his roommate. Here, I tried my hand at coloring the fabric. I'm a terrible color-er. I have the tendency to color in one direction and then totally switch it up, and I have to learn that is a no-no. But I think it came out okay anyhow.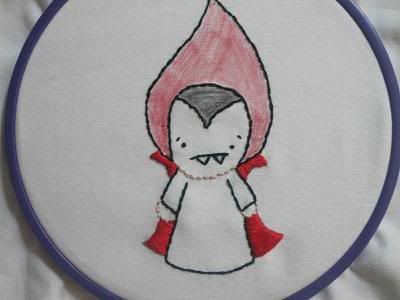 That's it for now!